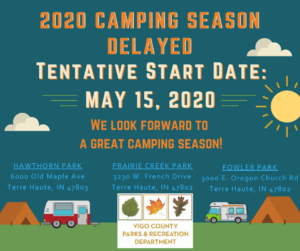 For Immediate Release:
The 2020 camping season for the Vigo County Parks and Recreation Department, 
originally 
scheduled to begin
May 1
st
, has now been officially delayed due to the coronavirus (COVID-19). The new and tentative goal for the department is to open camping May 15
th
.  This is due to the extremely unpredictable circumstances, caused by COVID-19, the importance of safeguarding the health of our staff and community members, and for the logistics of hiring/training personnel.  We will reevaluate the date for camping on or before the 1
st
 of May, hopeful our community in this together will be through this together and resume more normalcy.  
Currently the Vigo County Parks are open, and we would like to thank the community for helping to take such great care of our parks during this time.  A reminder that all playgrounds, shelters, and restrooms are closed at this time. This includes all rentals during the stay-at-home order.   All programs for the month of April have also been suspended.  All community members are required when using the parks to follow social distancing guidelines.
For additional information please contact the Vigo County Parks and Recreation Department at (812) 462-3392, or at vigoparks.org