Fowler Park
Address: 3000 E Oregon Church Road, Terre Haute, IN 47802
Phone Number: 812-462-3413
Full-Time Staff
Shawn Bunch, Maintenance Specialist
Keith Hollingsworth, Maintenance Specialist
Truman Fraza, Maintenance Specialist
Collin Utley, Maintenance Specialist
Park Caretakers
Martin Peters and Matthew Peters
Description
Located one-half mile off U.S. 41 on Oregon Church Road, Fowler Park serves as a multipurpose park. Inside Fowler Park are two lakes, a campground, picnic shelters, playgrounds, trails, a covered bridge and a pioneer village with a working gristmill.  Fowler Lake, 25.9 acres, has a boat launch, a beach for swimming.  The lake is stocked with largemouth bass, bluegill, redear sunfish, channel catfish and black crappie. The second lake is located on the west side of the park hidden behind the hillside. Largemouth bass, crappie, and bluegill are found in it.
Peninsulas on the east side of the lake comprise the campground. Fowler Park is the only county park where campsites are located next to the lakes edge. The campground has approximately 60 modern sites with electricity and approximately 15 primitive campsites. Shower houses, restrooms, and a dump station are available to campers. Camping season each year begins May 1st and concludes October 15th.
Two picnic shelters on the parkland each hold between 150-200 people. A large playground is adjacent to Shelter A (east side of Fowler Lake), and a smaller one is adjacent to Shelter B (west side of Fowler Lake).
History
In 1967, one-hundred-and-forty-acres of land in the south-central area of Vigo County was purchased from the Peabody Coal Company to establish the first county park,  known today as Fowler Park. The park was dedicated to the memory of Eugene Fowler, the first man to lose his life in the Vietnam War. Additional land with a house was purchased in 1970 for use as a caretaker's home. Approximately 300 acres of land east of Fowler Park were donated in 1981, named the Fowler Park Wilderness Area. The last additional of land was in 1995; land north of the park was purchased totaling 462.82 acres.  In 2016, the Fowler Park Wilderness Area was re-purposed and transformed into a 300-acre community mountain bike park, named Griffin Bike Park.
Fowler Park Map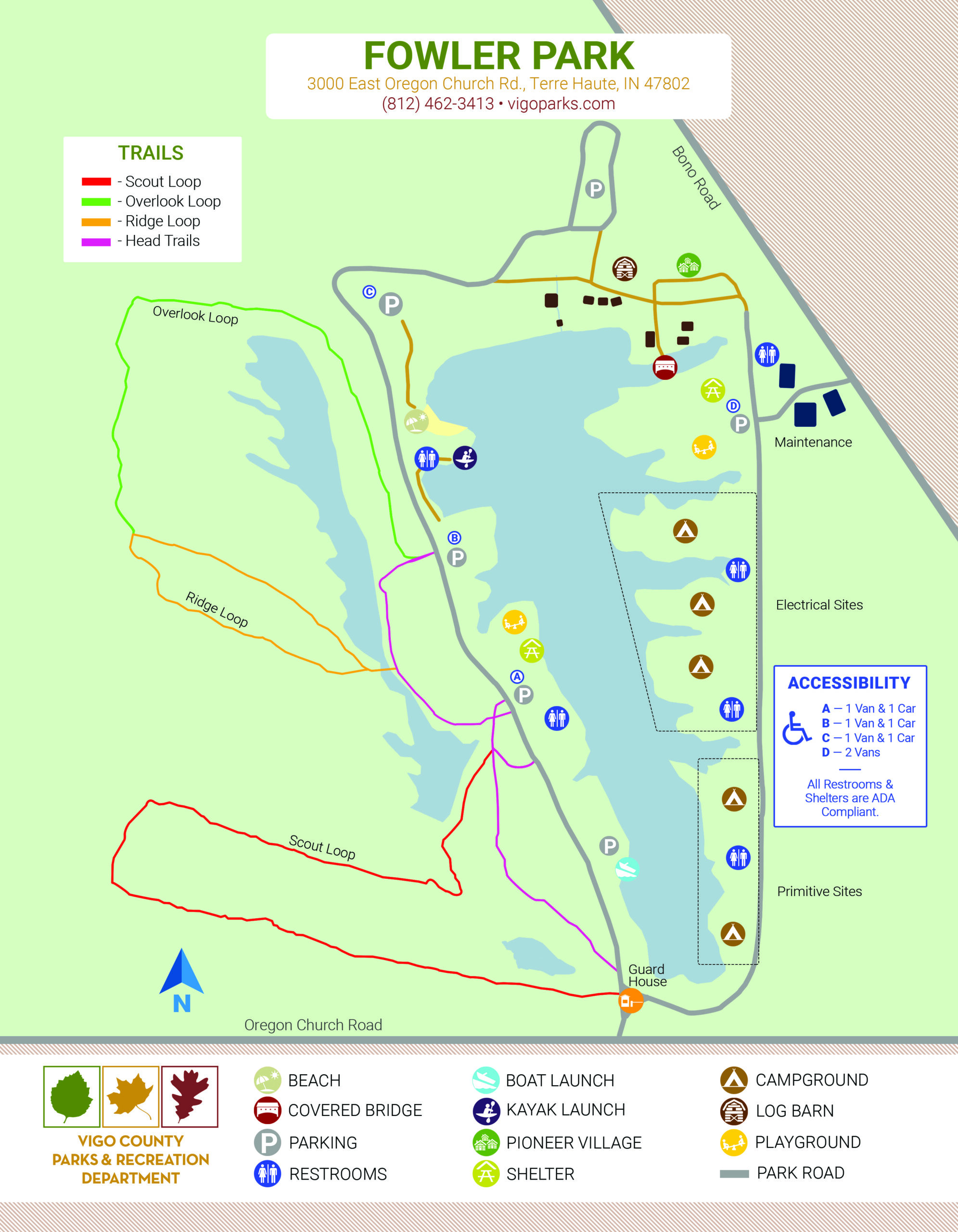 Fowler Park Map PDF
Fowler Park Photos