Notice:  Due to the fluid nature of COVID-19, please check and be aware of all possible state and county restrictions when reserving a facility.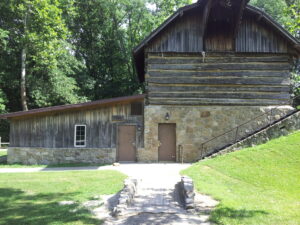 Log Barn Rental Rates:
Monday-Thursday:  $103.00
Friday-Sundays & Holidays:  $203.00
Log Barn Features & Amenities:
Seats 100
Kitchen (bring own utensils)
Refrigerator
Stove
Rest Rooms
Electricity & Water
Log Barn Rental Rules & Responsibilities
Barn Hours:
The Log Barn is open from 8 A.M till 10 P.M.
Parking:
All rentals are to park in the parking lot behind the barn. Parking is prohibited in the Fowler Park Pioneer Village past split rail fence. The paved area is for loading and unloading ONLY. Driving on the gravel paths is strictly prohibited.
Key: 
May 1 – October 15: pick up & drop off at the entrance gatehouse.
October 16 – April 30: pickup & drop off at Caretaker house.
Decorations:
Decorations cannot be attached to walls. Decorations may be strung on wood beams or free standing. No tacks, nails, staples, or tape.
No confetti is permitted inside or outside the rental facility.
Smoking:
No smoking inside the building or within 50 feet of the building. Place all cigarettes in the canister provided. PLEASE do NOT leave your cigarette butts on the ground.
Alcohol:
No alcoholic beverages are permitted within Log Barn or park premises.
Departure: 
Take down ALL decorations, pick up trash, wash tables and chairs, clean up the kitchen, and sweep floors. Put filled trash bags in the hallway near the restroom.
Furniture and Floors:
Do not slide tables, chairs, or any other items on the tile floor. Do not remove trash barrels. Chairs and tables may not be taken outdoors.
Cleaning:
You are responsible for ensuring the facility is returned to the condition you found it.
What to do if you want to reserve the Fowler Park Log Barn?
Click on the dates on the above calendar for which you would like to reserve the building.
Fill in the above text boxes with the following information:

First and Last Name
Email Address
Phone Number
Event Details

Name for a sign to hang on building (i.e. – Jane's Birthday)
Approximate # of attendees
Etc.

Click send to send a confirmation email to our server and to the email that you provided.
A PayPal icon will appear. Click on the icon to be redirected to our PayPal page.
Enter credit/debit card information.
Once we receive your payment, we will confirm your reservation!
If you have any questions or concerns, feel free to call our Administrative Office at 812-462-3392, Monday-Friday during the hours 8:00 a.m. to 12:00 p.m. and 1:00 p.m. to 4:00 p.m.
Payment & Cancellation Policies
Payments must be paid in full at the time of booking. No exceptions. If payment is not received at the time of booking, the reservation will not be submitted.
Any reservation canceled within 2 weeks of the rental date will result in forfeiture of the entire rental fee. No rental credit will be given.
No refunds will be awarded. Any reservation canceled prior to 2 weeks of the rental date will be eligible for rental credit. Credit is available for the same days paid during the same calendar year.
NO RAIN DATES ARE PERMITTED.
All payments must be made via credit or debit card. Thanks in advance.
PHOTOS: