Prairie Creek Park

Address: 3230 West French Drive, Terre Haute, IN 47802
Phone Number: 812-898-2279
Full-Time Staff
Jeff Bunch, Maintenance Specialist
Mark Wiggins, Maintenance Specialist
Park Caretaker
Fred Grayless
Park Overview & Features:
Situated on West French Drive, Prairie Cree Park is four miles west of U.S. 41 and one and six-tenths miles east of State Road 63, making it accessible from either highway. The park is a multipurpose park. Its distinctive feature is a beautiful grove of old growth sugar maple trees that, in the fall of the year, turn to brilliant golden yellows, reds, and oranges.
Within the park proper, one long, moderate, continuous trail winds in and about the grounds with numerous access points. A small family graveyard sits on a hilltop, undisturbed in the woods on the east side of the park. Members of the Kerchieval family rest in peace at this site.
On its south border, Prairie Creek Park adjoins a 13.4 acre lake. At the front of the park is a small 1.8 acre pond. Channel catfish, large mouth bass, redear sunfish, bluegill, and black crappie can be found in these bodies of water.
The campground has approximately 40 modern sites. The campground is divided into two sections, one much smaller than the other.  A modern shower house, restrooms, and dump station are available to campers.
Two picnic shelters (Maple and Persimmon) on the parkland each seat 80 people comfortably and are available as rentals year-round. A large playground is available and is adjacent to the Maple Shelter. Across from the Maple Shelter is a ball field with a backstop. Centered between the campground and the shelters is a multipurpose court with two tennis courts and basketball goals that attract enthusiasts of both sports. Nearby are four sets of horseshoe pits. To reserve picnic shelters please call our Administrative Office at 812-462-3392. 
Maple Sugar Bush Syrup Operation
Prairie Creek Park is best known for its Sugar Camp. In late January through early March, maple trees are tapped within the park. The sap is collected and routed using plastic tubing and pump systems to a holding tank located next to the Sugar Cabin. The Sugar Cabin is an authentic log cabin outfitted with evaporating equipment to produce maple syrup. As maple syrup is produced, it is filtered, bottled, and available for purchase at the park itself or at our Administrative Office. The Sugar Cabin is open to visitors anytime there is a sufficient amount of sap available to fire the evaporator.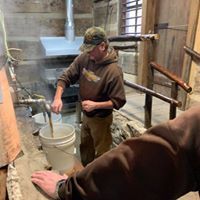 History
Prairie Creek Park was added to the Vigo County parks system in 1972. The 107.25 acres, located in Prairie Creek Township in the southern end of the county, was acquired from the Prairie Creek Conservancy District. The park was named after Prairie Creek which flows through the township.  The Parks and Recreation Department share an adjacent Public Law 566 flood control lake with private land owners to the northwest. In 1983, Ruth Newlin deeded an additional eight acres of land to the west of the park. Prairie Creek Park grew to 202.75 acres in 1997, at which time the park purchased 87.5 acres of land to the east from Karolyn Logan. In January 2000, an additional 80 acres of land located north and across the road from the park was purchased from Arlen Elliott, extending Prairie Creek Park to 282.725 acres. This extension of Vigo County parkland was classified as a nature preserve and named Elliott Woods Nature Preserve. This wooded area is a sought out destination for those looking for nature immersion, peaceful hikes, and solitude.
Prairie Creek Park Map
Prairie Creek Park Map PDF
Prairie Creek Park Photos