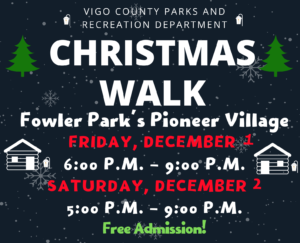 Christmas Walk
Fowler Park's Pioneer Village
Friday, Dec. 1st (6 p.m. – 9 p.m.) & Saturday, Dec. 2nd (5 p.m. – 9 p.m.)
Free Admission!
Family Fun for all ages
Step back in time to walk through our Pioneer Village and visit our pioneer volunteers in their cozy 19th-century cabins to see how they celebrate Christmas! Stop by our Village Mercantile to view our homemade items and do some Christmas shopping then visit the Log Barn for some special activities. Hot Drinks and special treats will be available for purchase, the Wabash Valley Dulcimer Possey will be providing live Christmas music while you view our Christmas Tree Trail and meet our special guest, Santa Claus! This will be a perfect family event to kick off the holiday season! If you have any questions, please contact our Natural Resource Programmer at 812-462-3392 or [email protected].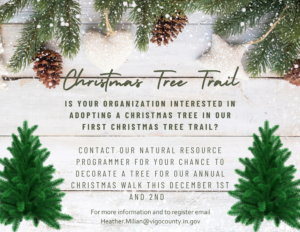 This year, during our annual Christmas Walk on December 1st and 2nd we will be having our first Christmas Tree trail in the Fowler Park Pioneer Village log barn. We are looking for organizations to adopt a Christmas tree to decorate. Your tree will be displayed at the Christmas Walk with a sign dedicated to your organization. If your organization is interested in adopting a Christmas tree please contact the office at 812-462-3392 or email our Natural Resource Programmer at [email protected]!
Christmas Tree Trail Application
2023 Christmas Walk Volunteer Applications are available below: